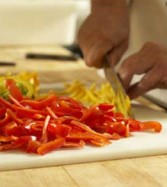 Food Manager
Online Certification
Earn your certification as a qualified food manager/operator through our approved, interactive training course!
Food Handler
Online Certification
Learn everything you need to know to work as a responsible food handler and earn your industry-accepted certification!
---
Why You Need Food Safety Certification


Food manager and food handler safety certification is of growing importance to the prepared foods industry, and our courses are aligned with the highest safety standards - including the FDA Food Code.




PSCC On-Line Training System


Find out more about PSCC's online training programs and how they can benefit restaurant managers and employees.



What We Can Do For Your Restaurant


Discover what we can do to help restaurant owners and

managers

increase

profits with online menus and custom employee

training packages.




How Easy We Make It To Get Certified
Click here to find out how our certification programs work and how easy and inexpensive it is to obtain your food safety manager or food safety handler certification when you sign-up today!
---
Sign Up for Your Food Safety Certification Course!